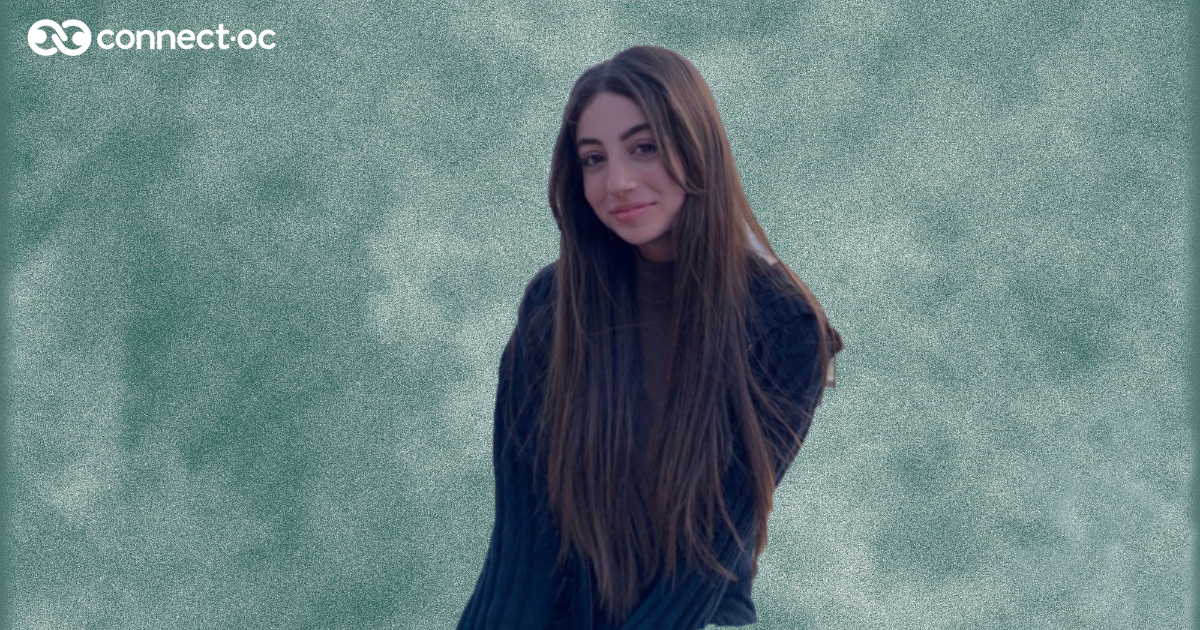 Tell us a little bit about yourself …
Hi! My name is Laila Nahas, I am going to be a junior this year attending high school in Irvine. I have such a soft spot for animals, especially kittens and cats. I actually just got a tabby kitten who is 6 weeks old whom I love very much. I play competitive soccer for a club team in Orange County, as well as my high school varsity team. I enjoy music and the arts- I'm a part of my school's performing choir and love to play the piano as well. I love reading and drawing in my leisure- all types of books and all types of mediums from sketching to watercolors. I am so excited to be working with Connect-OC!
What's your connection to Orange County?
I moved to Orange County about 8 years ago, from New Jersey. I love it here, the weather, the beaches, the people. It's definitely a big adjustment- very different from the east coast environment- but still very great. I love participating in volunteer work all across Orange County. I've done work across Anaheim, Santa Ana, Irvine, and the Lake Forest area revolving around Alzheimer's and the elderly, art with kids in less fortunate communities, students with developmental disabilities, and reducing the stigma on mental health in different minority communities.
Share a little bit about your outlook on life …
I love putting trust into the future. Trusting that there are good things to come, having hope for tomorrow. Always having something to look forward to and remembering that time doesn't stop. I like to think that there is a future version of yourself who is proud, proud you persevered and that you were strong enough to get through whatever you were going through. One of my favorite quotes regarding life and the future is that "no amount of guilt can change the past, and no amount of anxiety can change the future." Put trust in the universe, love and take advantage of your life to the fullest, and be kind- always.
What's your favorite book?
I've read many books over my lifetime so far, and I can easily say my favorite book of all time would be Louisa May Alcott's Little Women. The themes of growing up, selflessness, love, compassion, and family throughout the beautiful novel really shine through. It gives you a reminder that growth will also feel like loss- to always remember that. It reminds you to focus on being present in the moment, on taking advantage of life, being there for your family, speaking your mind and being grateful for where you are today.
What's your favorite self-care activity?
Art. Expressing myself, my thoughts and emotions is such a soothing self-care activity that really works for keeping my mental health in check. Giving myself the freedom to create something that has hidden, underlying symbolism or a different meaning to it helps get me in the right headspace when I'm feeling stressed out or in a bad place mentally. I love sketching with charcoals- I draw eyes, faces, hands, scenes, characters- anything that comes to mind at that moment. I also love painting, specifically with oil paints and watercolors. I also enjoy copying still-life objects, especially scenes of ponds, beaches, parks, bridges, and cities. Self-care is one of the areas in mental health I am the most passionate about, as I feel everyone should take some time out of their day to do something they truly love.
What drew you to community mental health work?
I was drawn to community mental health work because I want to help reduce stigma in minority communities. It is a passion of mine to help foster open dialogue and normalize discussions on mental health where people may feel uncomfortable to do so and where it is not as accepted.
Could you share a bit about your experience with Hope Squad?
Hope Squad is a peer-to-peer suicide prevention program. The program reduces youth suicide through education, training, and peer intervention across high school campuses and on a national level as well. I was nominated by my peers at my high school to be an active member, and after interviewing with the advisors on my campus, was officially selected. We have the goal to prevent suicide through public awareness and education on campus, while reducing stigma, and serving as a resource to those affected by suicide. My experience being on Hope Squad so far has been amazing- I have met so many strong students and helped plan events on campus to support suicide awareness.
What's it been like being in leadership with Hope Squad locally? How about at the national level?
In early 2021 I applied to be a part of the National Hope Squad Council, and was selected as a member. So far it has been a rewarding experience connecting with students across the country who have similar goals. We attend meetings where we participate in dialogue on how to support local chapters, discuss our passions in mental health, and prepare for national conferences.
Why are programs like Hope Squad important?
Raising awareness about suicide is so important, especially in high school/youth climates where sometimes suicide discussions are considered taboo and are stigmatized-which is why programs like Hope Squad are so important. Having groups of trained students who are your peers directly on campus with you is a great resource to anyone struggling with mental health or suicidal thoughts. As students we are able to relate and possibly see some early signs of our peers struggling. We can reach out and be a supportive ear and through a referral process, to get them the help they may need.
What made you decide to volunteer with Connect-OC?
I wanted to try and help out as much as I can with aiding people who struggle with mental health by applying my perspective as a member of the youth community. I got in touch through a few connections to Connect-OC, and was immediately inspired and eager to be a part of such an amazing organization after exploring the website and hearing about the organization.
Why attend community mental health events, like those hosted by Connect-OC?
I would love to attend any mental health events in my community as being a part of community engagement and fostering positive discussions around mental health. Unfortunately due to covid those opportunities have been limited but I am hopeful that things will change in the near future.