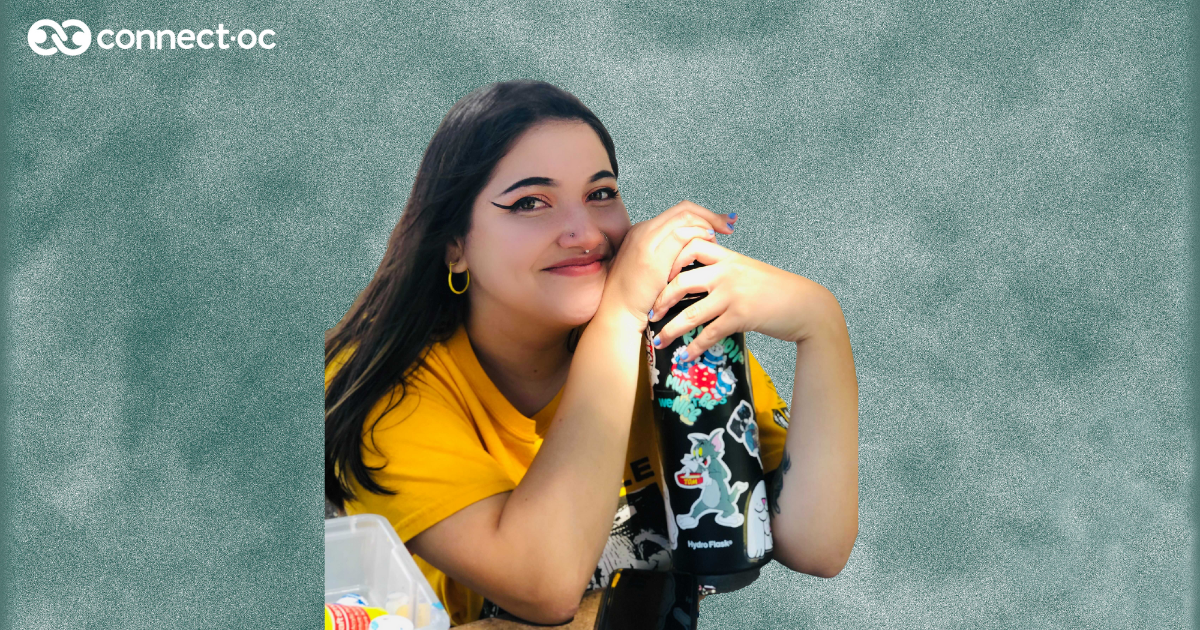 Marissa, tell us a little bit about yourself …
I'm a 22 year old Mexican American college student at Cypress College, working towards my
certificate in Addiction Studies and Associates Degree in Social and Behavioral Sciences. I plan
to transfer to Cal State Fullerton to major in Human Services. My career goal is to be a
Substance Abuse Counselor to help individuals who are struggling with addiction to drugs and
alcohol. When I'm not attending to school related work or intern work with Connect OC, I'm
spending time with my family, friends, or significant other, collecting clothing donations for the
homeless in Orange County through my Mutual Aid Group OC Clothing 4 All, at the gym, or
watching shows on Netflix.

What's your connection to Orange County?
I was born at Garden Grove hospital in 1999, raised in the Delhi Neighborhood of Santa Ana my
entire life, and still live here. Santa Ana has been home to my family since my maternal great
grandfather arrived here in the early 1950's from Mexico in search of a better life. I attended
Santa Ana unified school district schools from preschool through 2017 when I graduated from
Segerstrom High School. I have a great amount of love and appreciation for this city and
county, I always tell people that I can't imagine having grown up anywhere else. Even when I
wasn't sure what career path I exactly wanted to go down, I always knew that I wanted to work
in the Orange County area to be able to give back to my community specifically in lower income
and predominantly POC areas like the one I grew up in.

Share a little bit about your outlook on life
As hard as things may seem sometimes, I believe in the saying "everything happens for a
reason". I believe in the power of the Universe always having a plan for each and everyone of
us, even when we feel lost. I try to keep my outlook optimistic and positive!

What's your favorite book?
Into The Wild by Jon Krakauer and The Four Agreements by Don Miguel Ruiz

What's your favorite self-care activity?
It's hard to pick just one favorite self care activity so I'll list my top 3 that I do most often: doing
skin care, going to the gym, and getting my nails done.

What drew you to community mental health work?
A lot of the experiences and hardships I faced while dealing with various mental illness
diagnoses from a young age, as well as growing up around family members who lived with
untreated mental illnesses for a majority of my life, definitely turned my attention towards
wanting to help others through mental health work. The help I have received from mental health
workers over the years has been incredibly helpful and life changing, which is what I would want
to be able to provide for others through working in this field.

Tell us about your experience as an intern for Connect-OC …
I have been an intern with Connect-OC since Fall 2020 and have nothing but phenomenal
things to say about my time here. This internship has opened so many doors for me like
learning more about working as a team, preparing me for future career positions, and helping
me grow not only as a student or future mental health worker but also as a person. I am grateful
for being able to be part of such a wonderful agency and get the opportunity to connect with so
many other agencies and TAY in Orange County.

Why attend Connect-OC events?
Connect-OC's events play a crucial role in creating steps towards breaking the stigma
surrounding mental health. Although the events are mainly geared towards youth from ages
16-24 I think anyone who attends whether they have personally dealt with a mental illness or
know someone who has, can walk away having learned important information or found out
about resources that they can share later on down the line with others.